Watson Marlow®
100 Series Low-Flow Laboratory Pumps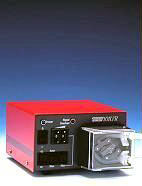 The 100 series is Watson-Marlow's low-flow single-channel range, used world-wide with fermenters. Two cased pumps are available, the 101U/R variable speed pump with auto analog and manual control, and the 101F/R fixed speed pump fitted with synchronous motors to allow exact speeds to be maintained.

The 102R pumphead is available in versions which accept continuous tubing or elements, and in faceplate-mounted OEM drives with fixed (102FS/R) or variable speed motors (102FD/R). An OEM speed control board is available for the 101FD/R.
200 Series High-Precision Multi-channel Pumps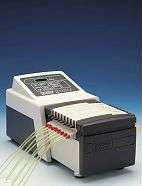 The 200 series is Watson-Marlow's multi-channel range, used in scientific applications around the world whenever high accuracy at low flow rates is required. Two pumps are available, the 205S/CA manual control variable speed pump, and the 205U/CA auto analog and manual control variable speed pump. Both are fitted with tachometer-controlled servo-quality DC motors for super-precise speed control.

Pumpheads with 4, 8, 12, 16, 20 and 24 channels may be fitted to both pumps. All accept Watson-Marlow manifold tubing which is available in over twenty sizes and five different materials (Marprene, silicone, PVC, acid resistant and solvent resistant) for the widest range of chemical compatibility.
300 Series Mid-flow Laboratory Pumps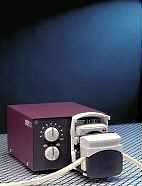 The 300 series is Watson-Marlow's best-selling oem system of pumpheads, drives and controllers which can combine to form complete pump installations, with flow rates from micro liters up to 2.0 l/min continuously, or up to 3000 ml/min intermittently.

Extension pumpheads have a unique snap-fit action to provide up to 6 channels, with the added bonus that tube loading for each channel is independent and does not require adjacent pumpheads to be removed. All pumpheads accept a range of tube sizes and materials, so that whether you are handling foods, sterile pharmaceuticals or solvents, there will be a Watson-Marlow pump which will do the job.

With a choice between DC and AC drives in a range of voltages and speed, there are nearly 30 different oem pumps in the Watson-Marlow 300 series, and the oem speed control board provides simple-to-connect speed and direction control for the 12V DC oem pumps.
500 Series Mid-flow Process and Laboratory Pumps
The 500 series contains Watson-Marlow's top-selling pumps for applications ranging from biotechnology to food processing and from contact lens monomer dosing to water and waste treatment.

501 pumps are fitted with close-coupled industrial drives 504 pumps have IP55 ingress protection for process applications 505 pumps have IP31 ingress protection for scientific applications 505Di/L and 505Di/RL pumps provide highly precise filling The 505Dz is a lower-cost filling pump The 503P is air-driven. The 505WDS is a balance-controlled dispensing system.
The World's First One-minute Maintenance Pumps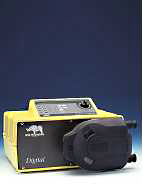 Watson-Marlow Bredel are world leaders in the fastest growing pump type for industry, so we set tough targets for the new 600 series. Increase pressure and flow, cut maintenance time to less than one minute and safeguard the process. World-wide testing has proved the new 620 series in every challenge. 620 pumps in your process will: Increase performance Up to 1237 liter/hour (5.5 gpm) at 4 bar (60 psi) maximize uptime Snap-fit LoadSure™ elements can give over six months life Require less than one minute to change Guard your process Clean-in-place and Steam-in-place as standard IP55 ingress protection against dust and fluids Fluid containment and controlled waste Process signal control and feedback.
700 Series High-flow Process Pumps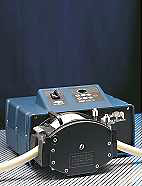 The 700 series provides the highest capacity available from Watson-Marlow's cased pump series with flow rates up to 8.7 GPM (33 liter/min) from one 701R pumphead. Fitting a 701RX extension pumphead gives either twin channels of up to 8.7 GPM or a combined output of up to 17.4 GPM (66 liter/min).

Cased drive units and control circuits are housed in a tough IP55/washdown enclosure, providing manual control on the 704S/R or manual/auto-control on the 701U/R which allows a pump located in a harsh or hygienic environment to be remotely operated.

Tube bores in five sizes from 9.6mm to 25.4mm (3/8in to 1in) in a choice of five tube materials may be fitted in the 701R pumphead, which, with its unique driven roller action ensures that the utmost tube life is attained in any application.

Further options are single and three phase industrial drives mounted on base plates with inverter and mechanical variator controls, or pneumatic drives.
800 Series High-flow Hygienic CIP/SIP Pumps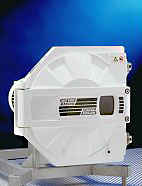 The 800 series has been designed for hygienic pumping up to 35 GPM (8000 liters/hour) and pressures to 50 psi (3.5 bar) in the biotechnology, pharmaceutical and food industries. Pumpheads are constructed of aluminum with a smooth white finish and they offer true SIP (steam-in-place) and CIP (clean-in-place) since the twin stainless-steel rollers can be lifted off the tube, allowing a straight-through path for cleaning.

All pumps are mounted on a 304L stainless steel frame with the option of a brushed stainless steel motor housing.

825 25mm pump maximum flow rate of 8.8 GPM (2000 liter/hour) 840 40mm pump maximum flow rate of 35 GPM (8000 liter/hour) Hinged door makes changing tube simple and safe Use USP Class VI Bioprene tubing Choice of continuous tubing or elements with hygienic connectors Bareshaft pumpheads accept foot-mounted motors Cantilevered pumpheads accept flange-mounted motors.

Motor/gearbox and control options include fixed speed, variable speed with mechanical variators, Ex-d rated motors or fixed speed motors with inverter control for 4-20mA and 0-10V process control, remote stop/start and reverse, and frequency output.
Bredel SP: Abrasion Resistant, Rugged and Reliable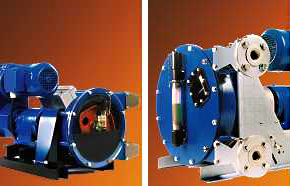 The Bredel SP series includes the SP10 and SP15 mini-pumps which produce up to 2.3 GPM (525 liter/hour) flow rate against up to 110 psi (7.5 bar) pressure, and the SP25 and SP32 which produce up to 23 GPM (5,300) against up to 230 psi (16 bar).

All four pumps have a bareshaft design, the pumphead being fitted with its own bearings for reliability and ease of maintenance.

The hoses for the SP series are made of specially developed thick-wall rubber reinforced with layers of nylon cord - two in the case of the SP10 and SP15 and four in the case of the SP25 and SP32.
Bredel SPX - The Future of Hose Pumping
The unique direct-coupled design of the Bredel SPX provides all the performance, reliability and ease of maintenance benefits of bareshaft (long-coupled) designs with the compact advantages of close-coupled pumps in sizes ranging from 40mm to 100mm.

Superb engineering design from the world leaders in hose pumping has achieved the rare feat of cutting cost of ownership at the same time making use and maintenance easier than ever before. It is the future of hose pumping engineered by the people who invented hose pumping.

Unlike close-coupling, Bredel's patented direct-coupled design permits the drive to be removed and replaced without the need to dismantle the pumphead.